November 30, 2007 | Filed Under exclusive, music | 1 Comment
two of these things are christmas and new years.
I've been busy, but I've got some nice little surprises in store for you guys. (I would be politically correct and say guys and girls, but I'm convinced the audience of this website is a sausage fest) ed: b is a female whom visits this site.
I'm not going to divulge too many details, but I will be presenting a gift to a handful of lucky people right here on tuftsmania. Watch out for an official announcement in the following couple weeks.
hint: 2007, in retrospect, is/was/will be awesome.
November 27, 2007 | Filed Under music | 1 Comment
well, not really the congo, but Milano….THAT IS FOR LATER. LISTEN NOW.
——-> Minor Apple Mail freakout session tonight. EVERYONE, IF YOU EMAILED ME AND I DID NOT RESPOND, HIT ME BACK AGAIN.
I am still getting used to how gmail is implementing their IMAP folders and apparently, to mark messages as 'non spam', you just delete it from the spam folder. DO NOT TRY TO MOVE THE NON-SPAM MESSAGE TO A DIFFERENT FOLDER. IT WILL BE LOST FOREVER IN THE INTERNETZ////.<--------
update: actually, just checking the proper gmail account helps. life: 999, this guy: 0. I still can't get the messages back in apple mail though.

image: turbokrapfen
Anyway, I did get to snag a sweeeet message from my spam folder before I nuked everything. It was from Rocco of CONGOROCK in Milano. (Rocco, if you're reading this, HIT ME BACK!) After dropping that massssssssive track with the Bloody Beetroots, which you heard here, Congorock is back at it with this MUST LISTEN track, "Exodus". It has that signature hard-house Congorock sound that will make any party explode into head-banging, body-thrashing, convulsing dance.
drop it into the very start, dead middle, or grand finale of your set and PUMP YO' FIST.
Audio clip: Adobe Flash Player (version 9 or above) is required to play this audio clip. Download the latest version here. You also need to have JavaScript enabled in your browser.
November 26, 2007 | Filed Under music | 2 Comments
A couple days ago, I received an email and wrote about it here.
Well my friend over at HIPSTERRUNOFF got the same email, and so did earwigsandwax
Apparently we all share the same idea. There's also a discussion going on over at Elbo.ws and it seems as though the qerio guys, along with their request to 'link to us', are now openly disclosing the fact that they will leech bandwidth directly from said sites.
I might not have been so bitter had they disclosed the same information to me instead of going, "Hey, you are a chosen website, link back to us."
Is this a new form of marketing? Piss off enough music blogs to create buzz? holy shit am I being controlled like a puppet?
EDIT: OHMY GODDD I FORGOT TO MENTION. i can now die happy because i've been blogged about on hipsterrunoff
1/1 life goals complete.
November 26, 2007 | Filed Under music | 5 Comments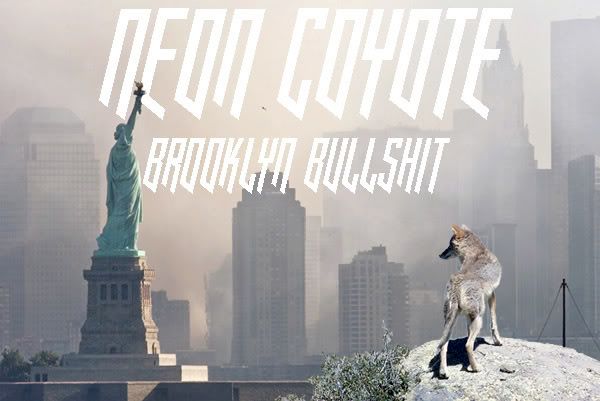 Completely blown away, the Neon Coyote boys in Brooklyn know how to stir things up in the hooooood!
After having just listened to their latest mixtape which dropped last night, I have no choice but to say, NC can mix the shittiest boring tune ever and make it sound like shittiest BANGING tune ever. heeeelllll yeaaaaaah
This mixtape has some really interesting additions. Definitely not your run of the mill banger mixtape which is quite refreshing. don't believe me? peep the tracklist.
DOWNLOAD – Neon Coyote – Brooklyn Bullshit
click more for the tracklist
Read more
November 24, 2007 | Filed Under music | Leave a Comment

image: ronysphotobooth
Some of my fav. LA locals, Royal Rumble just finished a sweeeeeezy remix of Soulwax – Miserable Girl.
I've always enjoyed RR's edit work, but this is by far my favorite yet. They cut and cut and reloop and cut and cut at all the right spots.
glitch always finds that it has a special place in my heart.
There are a few other remixes in the works, so be on the lookout! Catch the Royal Rumble at very many places in LA this year. if you want specifics, peep the myspace.
Soulwax – Miserable Girl (Royal Rumble edit)
Audio clip: Adobe Flash Player (version 9 or above) is required to play this audio clip. Download the latest version here. You also need to have JavaScript enabled in your browser.
ps: if you're ever around Russ while he's on stage, be careful or else you'll end up with a handle of vodka in your BELLY.