September 16, 2008 | Filed Under day to day | 5 Comments
For soooo long I'd been reluctant in allowing iTunes to 'take over my computer, brain, life, body' aka: 'organize' my music folders. More than a year ago, I was somehow compelled to try this inbuilt feature that had been overlooked for so many years.
I selected "copy to library when adding to itunes" and "let itunes manage my music".
This changed my life completely. No longer was I spending hours scrambling to rename, refile, and sort through folder upon folder of music files. I simply opened the file in iTunes, corrected any tags needing it, and iTunes subsequently filed the music away based on tag information.
Now with the the volume of music that I get through this website alone, it's a task in itself keeping everything organized.
- First it's the "I don't give a shit about sending you a properly tagged file" problem.
- Then it's the, "I'm going to send you every revision of my remix from beta 0.0002 to RC3 GLD MSTR CPY".
>>>>>>>FUCK U GUYS
I also have a 'smart playlist' for all my recently added tracks –it's the 'inbox' playlist. This thing gets SO saturated and backed up with shit that there's just no way. That's it, just no way Jose.
Which brings me to why I even bothered to write this much: I was briefly sorting through this playlist today trying to delete bad songs, duplicates, low bitrate pieces of digital rubbish (stop sending low bitrate please), etc etc. and I came across something that nearly slipped through the cracks:
Midnight Juggernauts – Dystopia (turkish prison rmx) (right click, save as)
Audio clip: Adobe Flash Player (version 9 or above) is required to play this audio clip. Download the latest version here. You also need to have JavaScript enabled in your browser.
Yeah, I know it's another Midnight Juggernauts remix, but that's exactly it. It's another Midnight Juggernauts remix. listen to the session-y bassline! (fucking awesome) (it seriously is so good) (totally serious)
I imported my copy of Dystopia from the AUS release, and apparently this remix came from the US domestic version as a bonus track.
Hey –Midnight Juggernauts: come play a show at my house and I'll invite my parents and their friends!! (seriously)
ps: omggg, we're seriously on so many social networking sites. facebook, twitter, myspace, hypem (weaksauce), last.fm. gotta add them all… LIKE POKEMON!!
August 13, 2007 | Filed Under music | Leave a Comment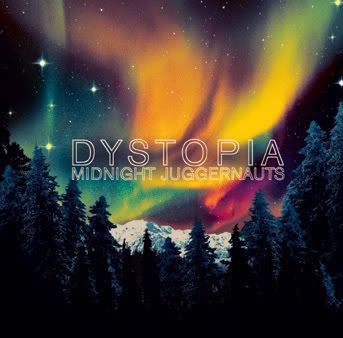 The new Midnight Juggernauts LP, Dystopia is in my stereo and……it sucks shit.
……..well what did you expect me to say? Of course it's fucking amazing. You've heard all of the hype tracks, and indeed, not all the tracks on this album are meant to instantly be club bangers, but fuck club bangers!! As I near the end of the first cd (there's a bonus cd) the whole album is balanced quite well. It's not all over the place and it maintains a certain feeling.. ..a Midnight Juggernaut feeling.
The bonus disc includes a lot of the tracks from various other EP's and single releases, but also some new b-sides as well. I'm digging the new remixes also. The live cut of 45 & Rising is SICK.
I don't give ratings, so I won't give this album a rating either (10/10), but it's good.
You might call me a dick for doing this, but here's a repost of Road to Recovery, because it's fucking awesome. In reality, I'm not the dick, I'm your savior. You're the dick for thinking I'm a dick. Buy it, it's good.
Midnight Juggernauts – Road to Recovery
Audio clip: Adobe Flash Player (version 9 or above) is required to play this audio clip. Download the latest version here. You also need to have JavaScript enabled in your browser.
click more for a bonus track
Read more
July 26, 2007 | Filed Under music | Leave a Comment
I have been treating my ears lately. That's what it comes down to. Since I'm leaving for vegas tonight, this will be a mega post to hold you over for the weekend.


First a little insight on what's been going in tuftsmania world. Track bikes own my balls. like literally. I've been riding 48-16 gearing and that's close to 80 gear inches. velodrome shit. decided to move it closer to 70 gear inches at 48-18.
anyway, enough about bikes, I pulled my old beaten 240 out of the garage and decided to get it running again. with the help of some of the OG's, we got it to putt on 3 cylinders. soon it will be using all 4.
now onto the most important things.
got lots of mail this week. some really exciting things for your ears.


ok, first. I'm going to be brief, wait, forget it. They need no fucking introduction!! MIDNIGHT JUGGERNAUTS BITCHESSSSZZZZZ
newest track "Ending Of an Era"
Midnight Juggernauts – Ending of an Era
Audio clip: Adobe Flash Player (version 9 or above) is required to play this audio clip. Download the latest version here. You also need to have JavaScript enabled in your browser.
at this rate, the album is goign to be insaneeeeeeeeeee! I am so pumped about this. lookout for their upcoming album, "Dystopia", demolishing Australia first in august.
–but wait… it gets better!!!!!!! AAAHHHHHH I AM SO SDPOFISJPFOIEF!!!!!!
no introductions again! THEFUCKING BEETROOTS!!! FUCK!!!!!!


Italy's Bloody Beetroots newest original track. it bleeeeeds the beetroot sound and I am SOOOO fond of it.
the bloody beetroots – Mac Mac
Audio clip: Adobe Flash Player (version 9 or above) is required to play this audio clip. Download the latest version here. You also need to have JavaScript enabled in your browser.
–
alright friends, i've got some other goodies that i'm saving for an upcoming mixtape. you'll hear it soon!
damn i'm in such a good mood after blogging about this insanely good sound.