May 12, 2010 | Filed Under music | 8 Comments

image: coachella set via flickr
Dear Uffie,
Your awkward white-girl rap was charming. When paired with solid Feadz/Oizo/Ed Banger beats, it was outright vibe-worthy.
Key example: Oizo's track, "Steroids" features your lovely vocals and it's a perfect marriage of awkward and technoise. (is that coined for mr. oizo yet?)
Audio clip: Adobe Flash Player (version 9 or above) is required to play this audio clip. Download the latest version here. You also need to have JavaScript enabled in your browser.
Mr. Oizo feat. Uffie – Steroids (Mr. Oizo Remix)
Things went downhill from there my dear…
Your latest single [ADD Suv] featuring Pharrell (Prod. by Mirwais) is listenable –for 15 seconds. No disrespect Mirwais, but C'MON SON. Yes, there are brief glints of beauty, but in a whole sea of ugly.
Hell it could have been good even if P produced it himself.
Here's to hoping your upcoming full-length has things that sound better than this.
Love,
Chris_n
In other news, this is what "ADD Suv" could have been:
Armand Van Helden in for the save. I can hear the heavy influence of Duck Sauce shining through on this one. By somewhat balancing Pharrell and Uffie's lines, he capitalizes on Uffie's (really good) harmonic vocals that are noticeably overshadowed [by the off-kilter-Mirwais-borderline-hip-hop-beat] and turns it into a chopped up sparkling-disco fiesta. FEEL ME??
Audio clip: Adobe Flash Player (version 9 or above) is required to play this audio clip. Download the latest version here. You also need to have JavaScript enabled in your browser.
Uffie feat. Pharrell – ADD Suv (Armand Van Helden Vocal Remix)
For you to note: for some reason you readers like emailing me comments instead of just posting comments to the post directly. This poses 2 problems:
1. it's a 1 on 1 interaction and that's not what the internet is about. I'm all about an orgy of discussion. Besides, I'd much rather everyone be able to see my amazingly snide/smart-ass/bitch-ass replies –I'm not beyond making individual posts about email messages, as you know. but it's gotta be REALLY good.
2. it makes me look horribly un-popular on the internet. not that i care or anything. seriously. i don't care. forget it. fine. just keep emailing me your comments. i see u lurkers. lurkin' 'n shit.
BONUS:
just listen to this again. seriously. do it.
Audio clip: Adobe Flash Player (version 9 or above) is required to play this audio clip. Download the latest version here. You also need to have JavaScript enabled in your browser.
Matt Van Schie - (Be My) Lady (Hemingway's Beach Bossa Mix)
November 10, 2008 | Filed Under day to day | 1 Comment
You may know the OIZO from his hand in producing the Steak OST. You may know the OIZO from his hand in all the Ed Rec intro compilations. You may know the OIZO from the remix of Nazis that Justice did. Either way, you know he's the master of the stutter and sax. Lamb's Anger has been in my car for who knows how long, and I find myself skipping to this song more often than anything. If you need bass, funk, and sexy sax press play now.
Audio clip: Adobe Flash Player (version 9 or above) is required to play this audio clip. Download the latest version here. You also need to have JavaScript enabled in your browser.
BONUS! This track comes right after Cut Dick, and I just couldn't not post it. Features Carmen Castro, and it's the perfect match.
Mr. OIZO – Two Takes It ft. Carmen Castro
Audio clip: Adobe Flash Player (version 9 or above) is required to play this audio clip. Download the latest version here. You also need to have JavaScript enabled in your browser.
ps– anyone have more info on who Carmen Castro is? leave it in the comments.
holy shit how could I leave this one out. The classic Night Facilities edit of Patrick 122.
Mr. OIZO – Patrick122 (Night Facilities Edit)
Audio clip: Adobe Flash Player (version 9 or above) is required to play this audio clip. Download the latest version here. You also need to have JavaScript enabled in your browser.
Oh, well since I'm on a roll, here's the Nazis remix.
Mr. Oizo – Nazis (etJusticepourtous edit)
Audio clip: Adobe Flash Player (version 9 or above) is required to play this audio clip. Download the latest version here. You also need to have JavaScript enabled in your browser.
Update: shit I guess I should plug the album, it should be out sometime soon or later this month. Look it up and buy it because it is good enough for whatever they're charging.
May 5, 2007 | Filed Under music | Leave a Comment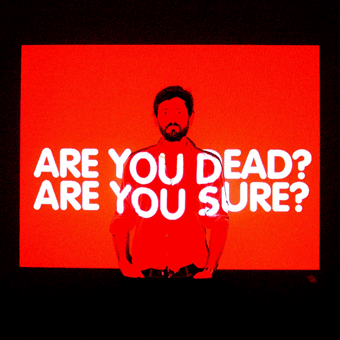 That's the title of Mr. Oizo's upcoming EP.
Enter "patrick 122″ . This track has been sitting in my inbox for a while and I finally got around to giving it a listen about a week ago. Definitely DOPE!!! It screams DISCO into my ears every second it gets played. the super sax at the end is unbelievable.
I threw a remix of this track into my last mix set, but I really didn't like the remixed track itself all that much. I'm doing a little shindig tonight, maybe I will see how the people enjoy the original oizo – patrick122.
Audio clip: Adobe Flash Player (version 9 or above) is required to play this audio clip. Download the latest version here. You also need to have JavaScript enabled in your browser.
oh, and (happy cinco de mayo)
May 3, 2007 | Filed Under music | Leave a Comment
Since so many sweet tracks came out recently, I decided to make yet another ghetto mixtape for your displeasure.
Most tracks are my own edits, however, some remain untouched.
pre-apology for getting lazy at the end and not really caring at all.
play play play
Audio clip: Adobe Flash Player (version 9 or above) is required to play this audio clip. Download the latest version here. You also need to have JavaScript enabled in your browser.
click for tracklist and download if you dare.
Read more